What is it?
A Client Reference Number (CRN) is a unique number that provides you an account at www.tottenhamhotspur.com to buy from their store, purchase tickets (subject to availability), or query anything related to your Tottenham Hotspur account.
There is no fee or cost associated with a CRN and it never expires.
The CRN is also used by Tottenham Hotspur FC to register affiliation to an Official Supporters Club such as ours, or any other worldwide if you move/relocate.
Therefore it is required as part of your official membership here at South Florida Spurs (you are of course more than welcome to attend our watch parties and interact with us online if you elect not to have a CRN - but you will not get the perks associated with having one).
How do I get one?
You may already have a CRN if you have previously registered at www.tottenhamhotspur.com, bought from the online Spurs store, have booked tickets, or have a One Hotspur membership.
If you haven't previously registered with Tottenham Hotspur, just go to the website at www.tottenhamhotspur.com and select Sign in/Register from the top menu. You will then be presented with the screen below.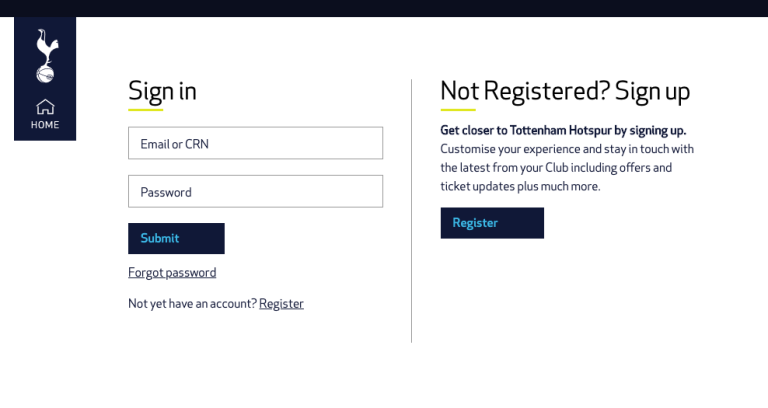 Click Register, fill out the appropriate information (name, email, password, etc...), click Submit and shortly thereafter you should receive an email including your new CRN.
What if I forget it?
There are a number of ways to retrieve your CRN.
Search your email inbox for "CRN" or "Client reference number". You will probably have some emails from noreply@tottenhamhotspur.com that include your CRN.
Click HERE and enter your email address and date of birth and Tottenham will send you an email detailing your client reference number
If you are a One Hotspur or Season Ticket Holder, your CRN is printed on your membership / Stadium Access card.
What if I forget my password?
Click HERE to enter your CRN and Lastname/Surname to to get password reset instructions emailed to you.